My introspective piece on attending a convention in the tail end of the pandemic was published in the October issue of Locus magazine.
THIS ESTONIAN SUMMER would have been right at home at the Locus office in California: Sunny days under brilliant blue skies with just a slight breeze to keep the heat from becom­ing stifling. Perfect for the annual outdoor science fiction convention held at Udu Farm in central Estonia. The event wasn't confirmed until just a few weeks before, but the vaccination program had reached full throttle and infection rates remained low, dwindling almost to zero in June and July.Estcon is remarkable in that the event is always held outdoors, come rain or shine, which means it is the only convention that has been able to convene safely during COVID times. Precautions are taken. So far, not a single COVID infection has been connected to the event.

Guests were encouraged to bring tents in or­der to allow the existing accommodation to be parcelled out per household. I filled my hot-pink backpack with food and clothes, slung my tent and sleeping bag into a crocheted carrier, and took the train south. This was my third outing with my tent, so I considered myself an old hand. I set up in a shady spot by a stream with only minimal cursing and swearing and very little bloodshed (I accidentally stepped on a small frog).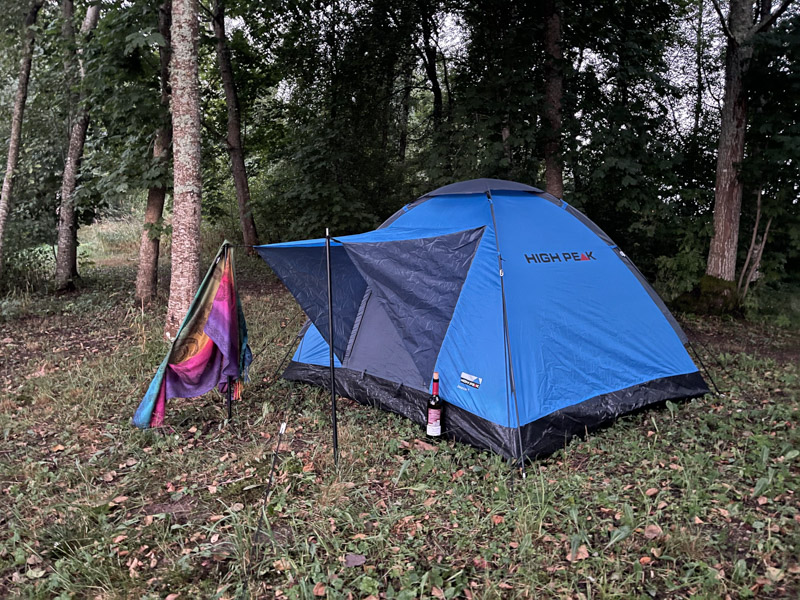 You can read the whole thing on the Locus website.